Jennifer Palmer is a character in the NBC series, "The Blacklist".
Background
Edit
She accompanies Harold Cooper and Donald Ressler to the Post Office for the initial meeting with Raymond Reddington. During Ressler's briefing she recalls that the papers had given Red a title, which Ressler says is "The Concierge of Crime".
She interrogates Red's contact, the Innkeeper, for the location of the Chemist.
Unanswered Questions
Edit
Why was she not seen after "Pilot"?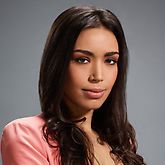 Ad blocker interference detected!
Wikia is a free-to-use site that makes money from advertising. We have a modified experience for viewers using ad blockers

Wikia is not accessible if you've made further modifications. Remove the custom ad blocker rule(s) and the page will load as expected.