The Blacklist: Conspiracy is a hidden objects game for smartphones and tablets.
The Blacklist: Conspiracy is a hidden objects game for smartphones and tablets. The game follows an FBI agent, the player, and their time working at the Post Office. Through out the game the player finds clues, interrogates suspects, and is given the choice to hand evidence over to the FBI or to Reddington.
The overall story starts just prior to Reddington turning himself in and continues as a sort of a side story to what happened in the TV series.
In The Blacklist Conspiracy Dev Diary video the criminals the cases are centered around are referred to as blacklisters, however none of them have blacklist numbers and have yet to be referred to as blacklisters.
In multiple scenes there are laptops which have images from the show on them including security footage of Red handing his passport to the FBI from the "Pilot" and the image of Nathaniel Wolff before his plastic surgery from "General Ludd."
In multiple scenes the file on Micheal Alverado from "Wujing" can be seen.
In the Hospital Room scene in "The Butcher of San Mauricio," there is a findable photograph. The photograph is a shot of Tom and Liz from "Vanessa Cruz."
In The Blacklist Conspiracy Dev Diary video, one of the developers can be seen working on Tom Keen, however he has not appeared in the first 11 cases.
In "The Garbage Collector," if the player chooses to give Red the redacted file, Kathryn Nemec would mention that Red has an associate that specializes in redacted files. This is most likely a reference to Haskell Twain.
In the Post Office background which is usually seen when the agent is talking to Aram, there are boards with the promotional image of Red in his hat and coat handcuffed to a chair, images of one of Ranko Zamani's bombings, an image of a young Floriana Campo, and an image of Beth Ryker.
A video for case number 9 was posted on The Blacklist: Conspiracy Facebook page. The given title was "The Emperor," however in the game it is titled "The Hiraoka Curse."
Gallery Case
Edit
Gallery Game Character
Edit
Gallery TV Character
Edit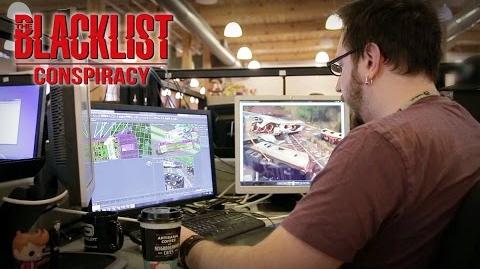 External Links
Edit
Ad blocker interference detected!
Wikia is a free-to-use site that makes money from advertising. We have a modified experience for viewers using ad blockers

Wikia is not accessible if you've made further modifications. Remove the custom ad blocker rule(s) and the page will load as expected.